opesus EHSM Smart Input (ESI) extends SAP Product and REACH Compliance with easy and efficient maintenance of large amounts of data. Product Compliance and Risk Assessments are supported in opesus ESI with a user-friendly interface that assists users in their daily work. The ESI functionality can be used to migrate or maintain a large number of product declarations in one operation, saving users a large amount of time. This increases the solution acceptance and improves data quality.

With opesus ESI, the missing functionalities of the standard SAP Product and REACH Compliance are added. In this way, the automation of the following manual steps for one or multiple Compliance Objects is possible. This saves you time and effort.

Maintain Declaration Data En Masse
The maintenance of data for a large number of compliance objects can be done in one step. This considerably simplifies the process of updating self-declared components when a new version of the REACH SVHC list is released.

Additionally, the handling of bulk declarations from suppliers can be done much faster.

Solid Technology
No modification is needed, as opesus ESI is based on SAP standard technology and extends the functionality of SAP Product and REACH Compliance. Through the use of standard concepts and technology, the web-based user dialogs blend in with the existing menu and user experience.
The data processing takes place in the background. Users can monitor this using a separate dialog, providing transparency and visibility to data changes. Executing the individual activities can be controlled via permissions; and by default, the existing configuration for accessing and writing the data is used.

Copy Declaration Data Between Regulatory Substance Lists
For declarable substances that are present in several regulatory lists, declaration data can be easily copied between these lists. This is very practical if you want to exchange data between EU RoHS and China RoHS.

It can also be used for customers that run a custom list that summarizes the substances of other regulatory lists. Related exceptions can be transmitted together with the substance data if needed.
Regulatory List Updates
With opesus EHSM Smart Input, the content of regulatory substance lists can be easily updated.
Regulatory substance list content can be edited comfortably offline in MS Excel.

In-built validations assure the correctness of the uploaded data.

Our software supports a direct import of the REACH Candidate List Package provided by ECHA (https://echa.europa.eu/de/candidate-list-package ) as needed for submissions to the SCIP database.

Upload Documents
Documents of suppliers can be attached and uploaded with or without relation to Compliance Requirements.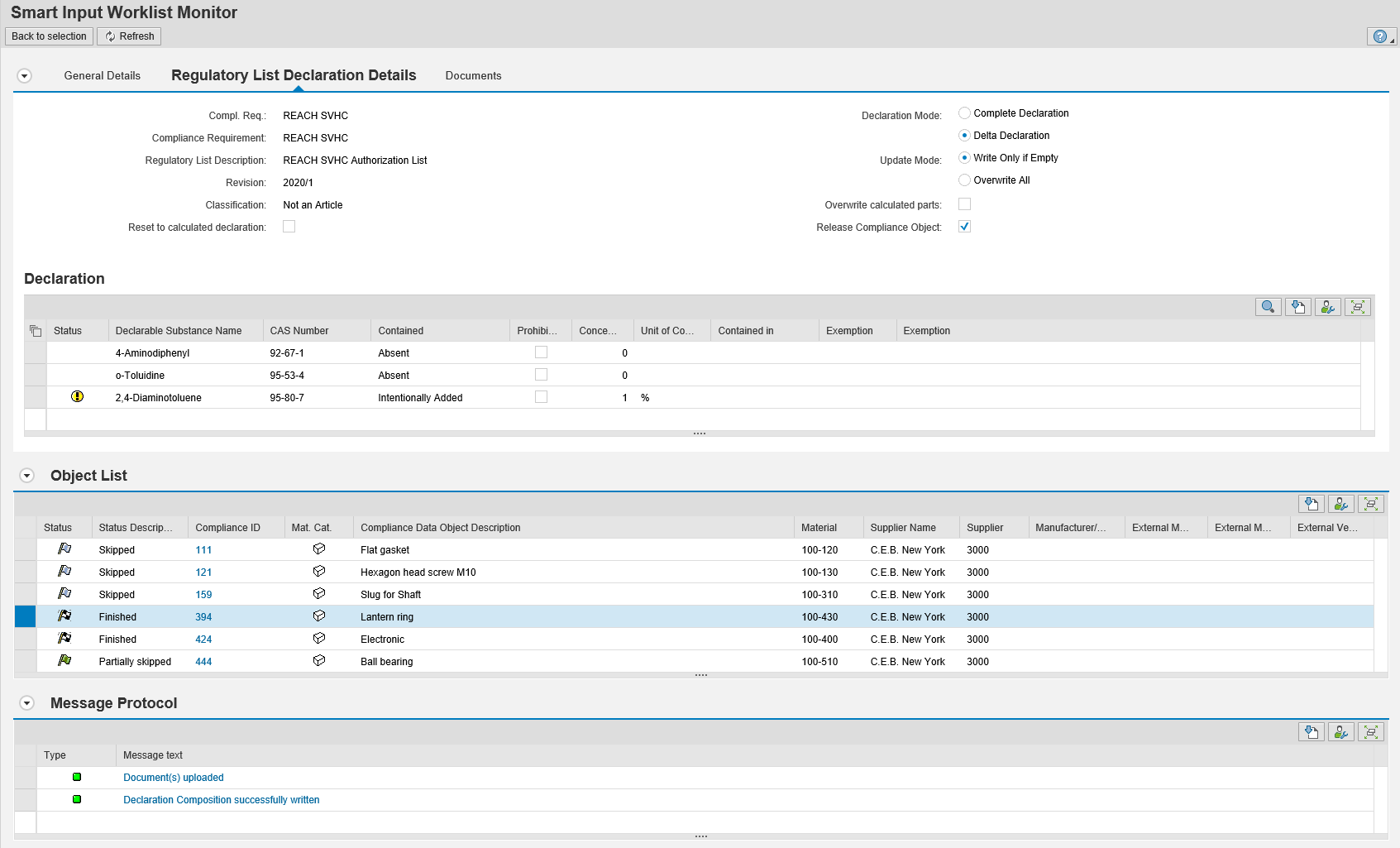 Copy Assessments
Performing risk assessments is part of the management of chemicals for industrial safety processes.

ESI provides a copy function for risk assessments so that data can be easily reused. Using this, much time can be saved on risk assessment data entry and maintenance, particularly for those assessments in comparable work areas.

Copy Compositions of Basic Material
As many components with the same material composition are used in discrete industries, save time and effort by copying this information between compliance objects or materials.

In the second step, you can transfer this information to many other objects.

Data Migration
Migrate existing compliance data such as regulatory substance list (RSL) declarations and full material declarations (FMD) easily via an Excel upload. In this way, you can save existing work and quickly set up SAP Product and REACH Compliance.
Built-in validations assure the correctness of the uploaded data.
Your Benefits
Significant reduction of effort for data maintenance
Lower risk of incorrect entries
Seamless user interface integration with SAP Product and REACH Compliance
No modification required
Increased user satisfaction and acceptance
Technical Requirements

Do you use or plan to use SAP Product and REACH Compliance?
If yes, PERFECT! Our solution is tightly integrated with SAP Product and REACH Compliance.

We support integration into:
SAP EHS Management 4.0
SAP EHS Management 6.0
S/4 HANA Product Compliance for Discrete Industry.
Contact us to learn more!
Want to know more?
Fill out the form below! One of our consultants will reach out to schedule a non-binding call. In this call, we will discuss your needs and concerns, and show you how our solution can solve them.