ChemCon Europe 2022
Lulu

Finally, after being postponed due to the pandemic, ChemCon Europe 2022 took place! ChemCon Europe 2022 was held in London from June 20th to 24th. The first day was a workshop focused on IT tools followed by two seminars. Tuesday through Friday were filled with great presentations covering the field of chemical regulations - from the EU, the UK, Turkey, Asia, and the Americas. Over 300 participants were present. Everyone was glad to be there for the opportunity to connect with representatives from ECHA, EU Commission, industry organizations, and peers from other companies.
Chemicals Strategy for Sustainability
The conference opened on Tuesday with a presentation by Sylvain Bintein from the European Commission on the EU Chemicals Strategy for Sustainability (CSS), which is part of the Green Deal. With the vision of a toxic-free environment by 2030. With the CSS, it is planned to amend and tighten chemical regulations in the EU such as the REACH Regulation, and CLP. Today, the EU has the most comprehensive and protective regulatory frameworks in the world.
This was followed by a presentation by Volker Soballa, from Evonik, who gave an industrial perspective to the CSS. He confirms that the industry is in support of the EU Chemicals Strategy for Sustainability and wants to be part of the solution. This set the precedence for the rest of the week as various topics such as the EU REACH, polymers, essential use, PFAS, and regulations around the world are presented and discussed.
opesus at ChemCon
ChemCon Europe 2022 saw quite a few exhibitors - from regulatory consulting companies to software solutions. We were very happy to be part of the event. Many of our existing customers using our market-leading software, EHS Product Notification, stopped by to say hi. We were delighted to catch up with them and to personally hear how our solution is helping them manage their poison centre notifications.
Furthermore, we recently made public what we're working on - a new solution called Product Compliance Collaboration or PCC. PCC is a centralized collaboration hub that brings together suppliers, service providers, customers, and authorities.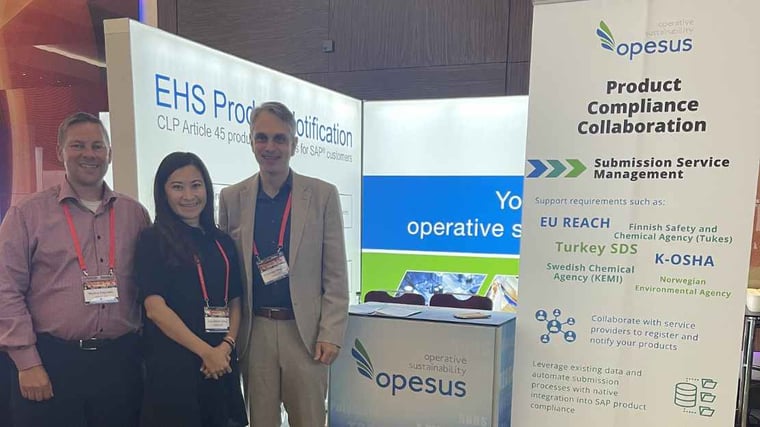 We loved the positive energy and how friendly everyone was at ChemCon! ChemCon provides a great balance of learning, networking, and having a great time. We truly enjoyed our walking tour of London and the awesome surprise of aperitifs and canapes at Middle Temple, one of the four Inns of Court built between 1562 and 1573. Check out the image below - we felt like we just walked into Hogwarts!
It's also at this historical location that Tjeerd, Conference Director, announced the next ChemCon. ChemCon Americas will take place in San Francisco! You can check for details when they become available on the ChemCon website. Maybe we see you there?